When I found out that Make Up Revolution was now in stock in a Superdrug in Sheffield, I pretty much made it my mission to go down and pick up a few things as I had never tried the brand before that - I already knew I was on to a winner as in the six months the brand has been around, they've already caused a frenzy in the blogger world for their amazing products, and I was definitely not disappointed. I think I spent a good half an hour in front of the stand, swatching products and trying to make up my mind which ones where to come home with me.
As soon as I found the Welcome To The Pleasuredome Palette - I knew it was one of the items that just had to come home with me. I know I made the right decision when I found myself using this palette every day!
This palette contains 18 highly pigmented eyeshadows, that include 12 shimmer shades and 6 matte shades. The palette isn't huge but you do get alot of product which means they have used every bit of space avaliable to them which is brilliant as it doesn't use a lot of space - especially if like me, you don't have much space to store your ever expanding makeup collection, but they still give you a crazy amount of eyeshadows to play with. In the lid there is also a mirror taking up the whole space which means combined with the size, this mirror would be fine to carry in your bag and you can touch up your makeup or change it whilst on the go which always makes it a winner for me.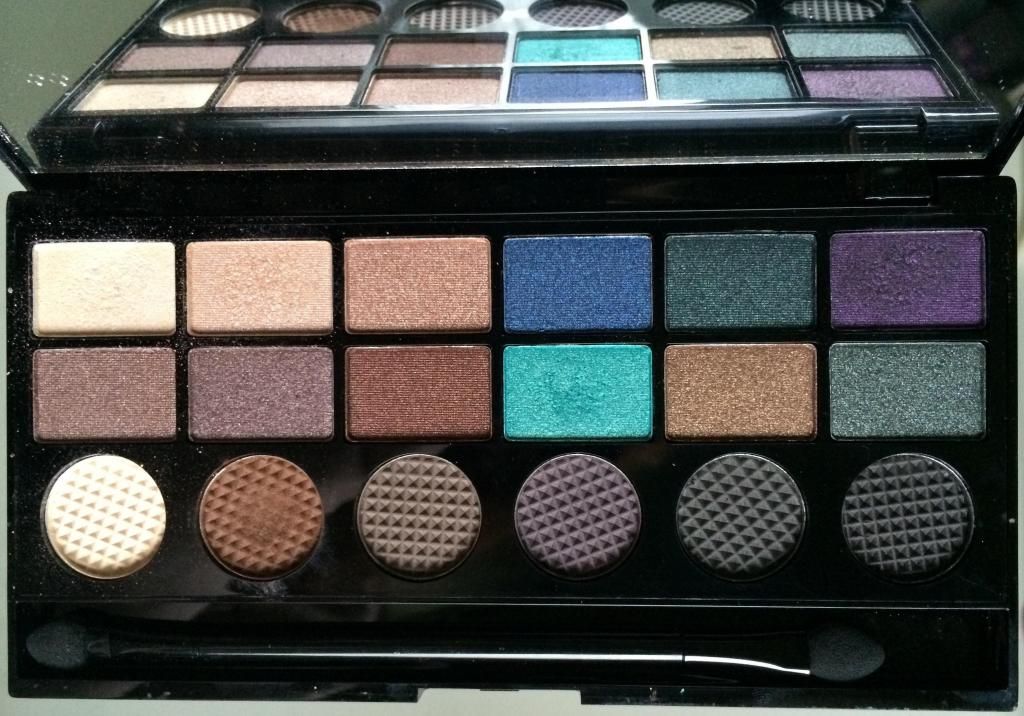 Welcome To The Pleasuredome: A very pale off white shimmer that is perfect to use as a highlight on my pale skin.
Xanadu: A pale champagne taupe shimmer which in the pan, looks like it has a very slighly purple undertone however, it doesn't translate to the skin.
Moving On: A pale bronze shimmer that looks lovely on it's own and with other shadows.
Using My Power: A dark royal blue shimmer, it looks quite dark in the pan but when applied to the skin it does lighten to a royal blue shade.
You Really Can't Afford Me: A dark forest green shimmer eyeshadow, just like Using My Power it does look alot darker in the pan that when applied to the skin.
Even When They Reach The Top: A gorgeous royal purple shimmer eyeshadow that has pink undertones running through it.
Where Lovers Roam: A dark taupe shimmer eyeshadow with pink tones running through it which really makes this eyeshadow sparkle!
Jungle Call: This shadow looks very similar to Where Lovers Roam in the pan, however when it is applied to the skin, it does appear alot more purple toned.
Moving At Million Miles An Hour: A dark copper shimmer eyeshadow that looks alot darker in the pan than when it does when applied to the skin, it has some red and orange shimmer running through it.
Sell It By The Hour: One of my favourite eyeshadows in this palette! It's a bright turquoise blue shimmer eyeshadow that is so pigmented and bright!
Shooting Stars Never Stop: A very shimmery dark gold eyeshadow that is very similar too Where Lovers Roam but with more gold tones running through it.
There Goes A Supernova: A dark olive green shimmer with gold tones running through it.
What A Pushover: A matte white eyeshadow that doesn't show up on my pale skin tone but because of this it definitely works well as a base for a natural eye look.
Long Way From Home: My absolute favourite eyeshadow in the entire palette. A milk chocolate brown eyeshadow, that I think really compliments my skintone.
Diamond By The Hour: A light grey matte eyeshadow that would really go well when doing a smokey eye!
Love Your Body: A dark matte purple eyeshadow, that would add a great twist and a pop of colour to a smokey eye,
I Can Do It: A dark grey matte eyeshadow, that is very pigmented.
Never Doing What I Am Told: A dark matte black eyeshadow that is very pigmented.
I really do love this palette, especially the mix of brights and darks aswell as shimmers and mattes. It definitely means this palette contains something for everyone, and with the variety of different dark eyeshadows, it will always work beautifully for any halloween looks you will be doing over the weekend for parties and events.
As I said, I have been using this palette every day - I have been using What A Pushover all over the lid and Long Way From Home in the outer corner and in the crease to add some depth because as I said, I think this milk chocolate eyeshadow works really well with my skin tone and hair colour and really helps bring out the blue in my eyes.
Have you tried this palette yet? What's your favourite product from MakeUp Revolution?