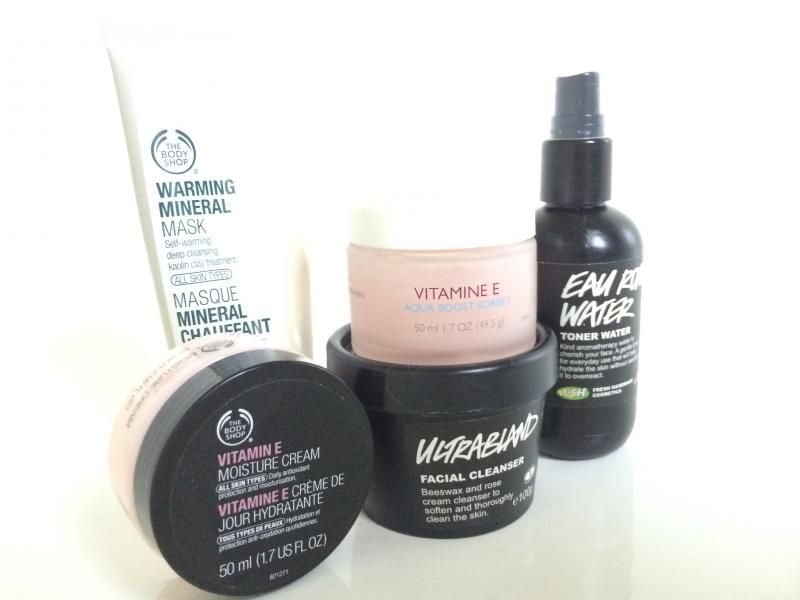 Over the past six months, I will openly admit to having a very poor skincare routine. As in, I used to use face wipes and the odd face mask once a week and some moisturiser if I remembered. However, this made my skin horrible and as you can imagine, my make-up wasn't the best! Because I wasn't moisturising, after a few hours my foundation would go cakey. My full skincare routine kicked in when myself and Georgina from
SheMightBeLoved
went shopping and she helped to start updating my skincare.
She introduced me to Lush Skincare (previously to this, I always used to associate Lush with just bath bombs and never would have thought to go there for anything other than that). She explained to me about there natural ingredients and we picked out the best two products for my skin type - which is normal to combination.
Now, I have a good skincare routine and my skin loves me for it - my make-up sits better and lasts longer, and at the end of the day I no longer have cake face. I start with taking my make-up off using
Ultrabland Facial Cleanser by Lush Cosmetics
I use this to remove my makeup, as the beeswax into the products helps break down the make-up before removing it with some cotton wool pads or a damp face cloth. I then use
Eau Roma Water Toner Water by Lush Cosmetics
Both of these products contain rose water which helps to calm any redness, which I have on my cheeks and I can definitely see an improvement! My skin always feels fresher and clean when I've used my toner water.
Next, depending on the time of day it is I'll use one of two items. In the mornings I use
Vitamin E Aqua Boost Sorbet by The Body Shop
which is light and refreshing and something I can feel working straight away, my skin feels instantly smooth and it leaves a matte finish with I find really works with my foundation. At night, I use
Vitamin E Moisture Cream by The Body Shop
and this is a heavy cream product so I like putting it on at night so it has several hours to sink in, rather than applying something heavy in the morning and putting foundation over the top. The product also takes a while to sink in, which isn't handy when you are rushing to work in the morning. However, by applying this at night and leaving it to sink in, I wake up in the morning with lovely soft skin!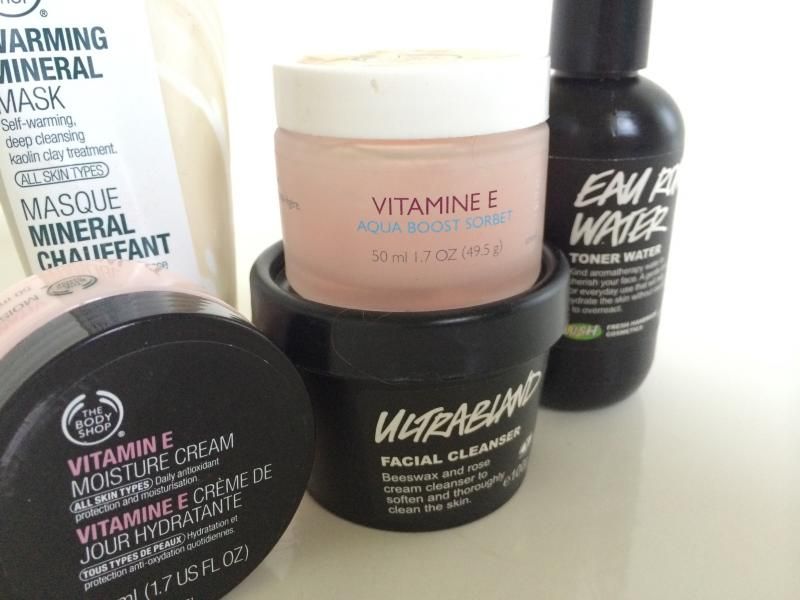 I love Face Masks - I will be the first to admit. When I first got in to face masks, all I used were the
Montagne Jeunesse
ones that are around £1 from pretty much anywhere, because they were easy to use and I could peel them off quickly. However now, I still do like them every now and again, but my one true love when it comes to Face Masks is the
Warming Mineral Face Mask by The Body Shop
. Its a really thick mask, which you apply to damp skin and you can feel heat up and really feel it working. Whenever I use this I am left with incredibly soft and clear skin and I just feel like it really works wonders!
Ever since I have improved my skin care routine, my skin has been incredibly soft and I've hardly had breakouts, and if I have they have only been minor. My foundation has been sitting better and lasting a lot longer than it had been before. I can now safely say I've binned my face wipes and my old moisturiser in favour of these products and my skin definitely thanks me for it!