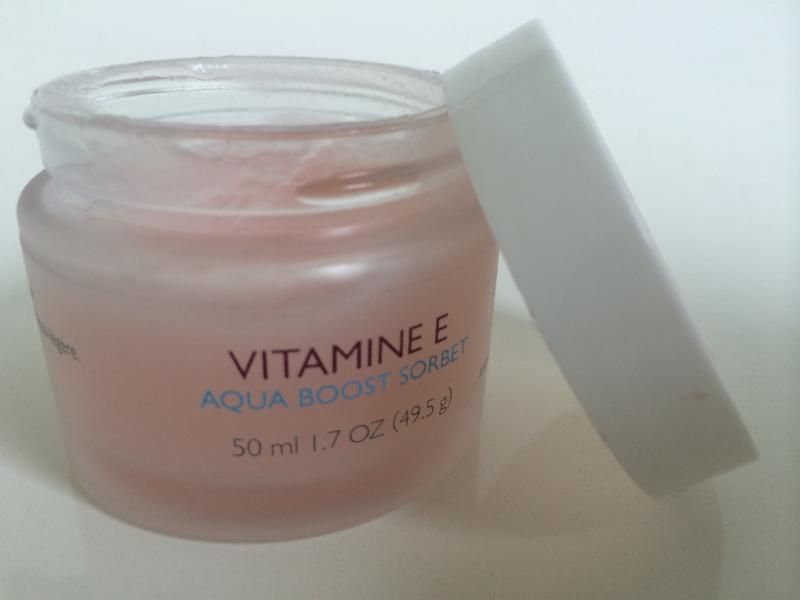 So a few months ago when The Body Shop released their Sorbet range, mainly consisting of the Body Sorbet which came out in a variety of flavours, the bloggersphere was full of reviews and first impressions of those, and I feel like the Vitamin E Aqua Boost Sorbet severely lacked interest. I know it's now start to pop up on a few blogs but not as much as I would have though.
I got this around 2 months ago and I have been loving it ever since, as soon as I samped it in store I fell in love with the product, with how it smell and how it felt when applied and when it had been given the chance to sink in to the skin. It comes in a sturdy frosted glass pot with a screw on lip and this is definitely a weighty product thanks to the packaging and it feels really sturdy when holding it which I like.
This sorbet claims to be a cooler version of the Vitamin E Moisturizing cream, as well as that this Sorbet includes mattifying products so you don't need to worry about getting a shiny face afterwards, which is definitely a plus - especially if you use this on the go! The texture of this sorbet is so incredibly cooling and light on the skin and personally, my skin feels hydrated as soon as I apply this product and continues to feel that way for several hours after application.
This cool gel sinks into the skin easily and you can instantly see the mattifying properties contained within the sorbet working, and straight away your skin feels baby soft. I normally apply this at night and my skin still feels so incredibly soft when I wake up in the morning, which is definitely an important factor for me as my skin has started to become slightly dryer in some places (personally I put this down to the air con at work and the changes in temperature recently!) Can I take this oppertunity to say how incredible this smells as well? It smells like summer in a pot - kind of like sweets but not, it's a very hard scent to describe. The only downside I think that there is to the Aqua Boost Sorbet is that it doesn't contain any SPF in it, so you will need to make sure you apply some of that to protect your skin.
Have you tried any of the Sorbet range from The Body Shop yet?