On Sunday, I was lucky enough to attend the Northern Bloggers Meet Up in Sheffield and I had been looking forward to it all week! We all meet up at a lovely little Cafe named Eten which is right in the centre of Sheffield, but yet tucked away so it still felt cosy. I had never heard or seen this cafe before, but after this meet I will certainly go again!
A few of the other bloggers that were there had ordered food which looked absolutely incredible and was beautifully presented! I soon found a seat and sat near
Faye
, who I have met before at the Fruition Hair & Beauty demo night a few weeks ago - I also sat near
Emily
and
Lauren
who were really lovely! So many bloggers attended, I think there was over 35 people there which was brilliant and really added to the atmosphere. Everyone was having fun, and we all had a giggle when as soon as something happened, or a product was shown everyone jumped out of their seats with their cameras in hand!
Lush made an appearance around an hour after the meet had started to give people a chance to eat and have a look around - Leanne from LM Blog was there selling her absolutely gorgeous nail polishes - I seriously wanted to take them all home! They were also selling raffle tickets, with the proceeds going to Macmillan Cancer Research which I thought was brilliant.
The lovely guys from Lush did a talk about how the company started and that is is a close group of people and feels very family oriented. They spoke about how they fairly trade and help those who provide ingredients have a better life. They both had such a huge passion for Lush and the company itself, which was very clear when they spoke about the fabulous work that Lush do and the great ethos the company have.
Whilst they were talking, we were able to pop some bath bombs into some bowls of water which were situated on each table which made the whole room smelt like a Lush shop. So yummy! They also handed out goody bags containing 2 full sized bath bombs and 2 incredibly large sample pots of products - however at the end, there were bags left out so they generously said to people come help themselves to the remaining items. I ended up leaving with 2 sex bomb bath bombs, 2 I Love Juicy pots, Cynthia Sylvia Stout sample pot and a Blousey sample pot. I donated the bath bombs to my step mum as I don't like floaty things in the bath with me.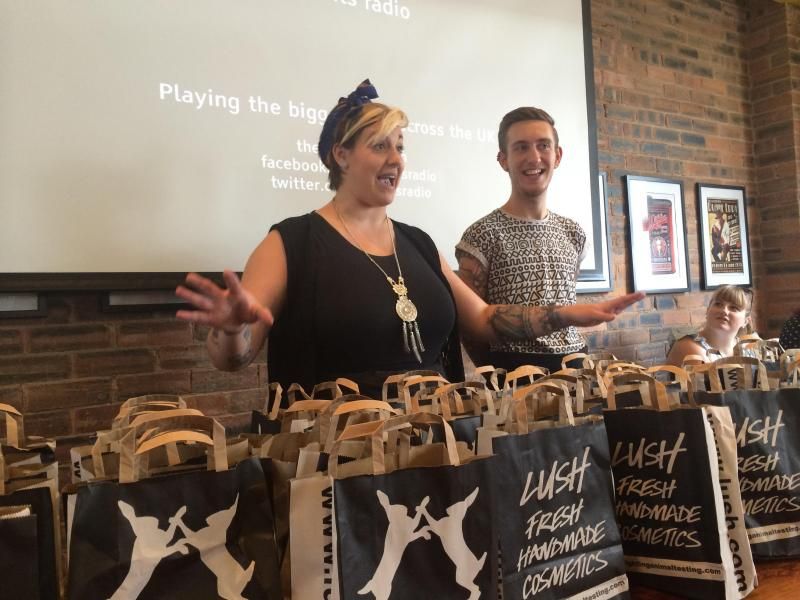 After a few technical difficulties, Jamie and Kitty from Benefit were here to talk about the brand and how it got started - would you believe that Benefit was started by twins who sold a few makeup items, but one lady kept coming back asking for more and more Benetint. What was she using it for? A nipple rub for herself - She was an exotic dancer and it turned out Benetint made your nipples pinker and didn't come off with sweat under the bright lights. So there you go - Benefit started out by selling nipple rub to exotic dancers! I bet you won't look at the brand the same now!
Kitty, who is a manager at the counter in Boots in Sheffield City Centre, then did a make up demonstration using some of their products - including the They're Real mascara and new Push-Up Liner, as well as speaking about how they created a product to remove it without damaging your eye lashes.
Jamie, who is the regional manager, and I got speaking and after hearing about how Benefit are meant to do eyebrow mapping and consultations when you get your eyebrows waxed, mentioned to her that I have never had mapping and consultations done and I've been going there for 2 years and no-one has ever mentioned it, and also that last time I went, she made my brows very uneven and left me with almost half an eyebrow on one side, and also wipped my mascara down my cheek without fixing it - she was very shocked! So she took my details and promised me a call in the week. (I got a call today and they are going to arrange for me to go in and they will sort out my eyebrows and look after me!)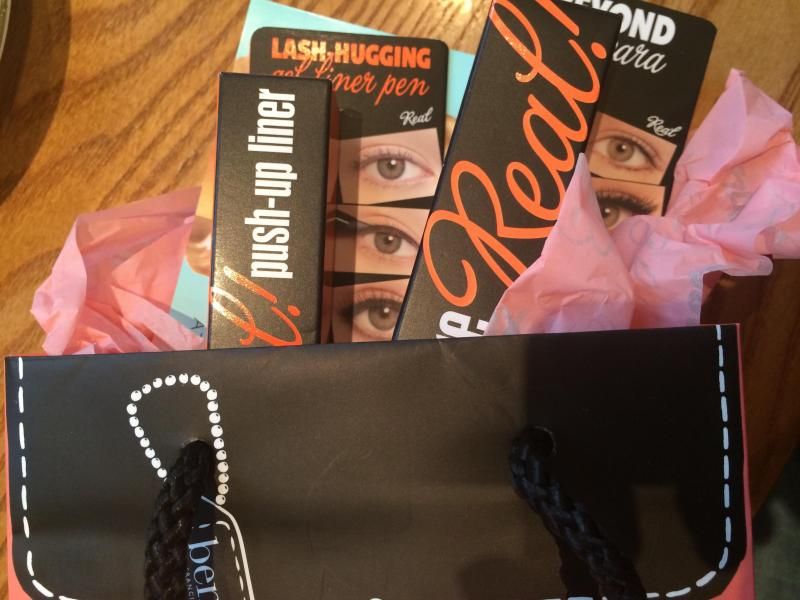 The ladies at Benefit were also kind enough to give us each a goody bag containing a full size They're Real mascara and a full sized They're Real Push Up Liner - which was very generous of them.
The goody bags we got were INSANE. I was truly blown away by the amount - the bag was so heavy when I was walking through the city centre to get my bus home. There were some really amazing things in there too and I feel so incredibly lucky to have recieved them.
The goody bags did contain a few things aimed at smokers - such as the electronic cigerette and smokers toothpaste which I donated to my dad. It contained some lovely sweeties and good which I am slowly making my way through!
There was also a raffle, and they made sure that every single person there won a prize which I thought was amazing and a really lovely thing to do and I really thank them for that as it made everyone feel appreciated. I really had so much fun and I can't wait to go to the next one! I now have such a big back log of things to test, try and write reviews for and I can't wait!