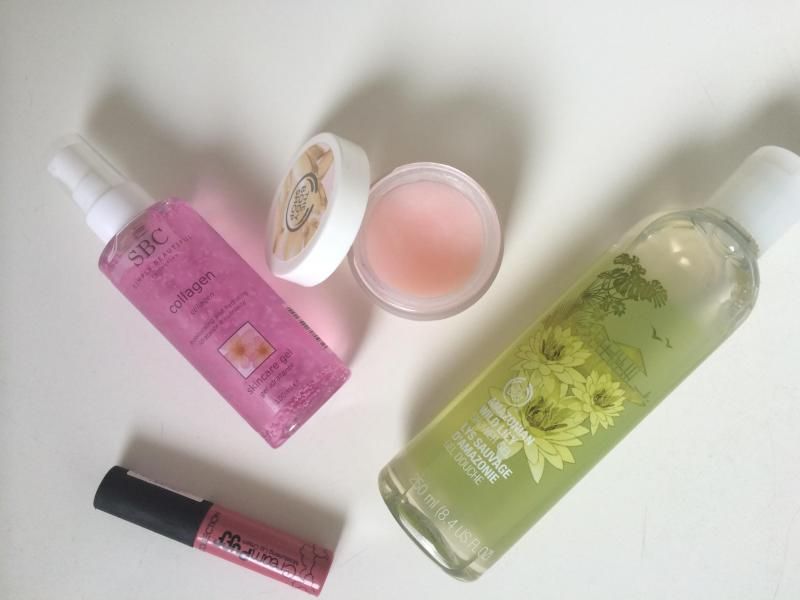 I know, I know - I'm late with this post! But here is my favourites for the month of August! Throughout this month I have kept my make-up and everything very simple and going for the more natural approach to things to have a change - and I've been liking it! I've also been trying a few new skin care products that have definitely made their way into my skincare routine and I can definitely see an improvement. I won't talk about everything in depth as I have full review posts coming up in the future about each individual item.
The Body Shop Amazonian Wild Lily Shower Gel
I got this product free when I got a new Love Your Body card after mine ran out and I have loved this product ever since. It comes in six different scents - of course some of them being your usual fruity smells like a lot of The Body Shop products do, but when I sniffed this I knew it was going to be a favourite. It doesn't smell fruit at all, which I like, it smells kind of like cucumbers in a way - but it just smells like that healthy smell that you get from greens, if that makes sense? It just smells so fresh and full of moisture! It lathers up beautifully and a little goes a long way. I'm already a quarter of the way through the bottle so that just shows how much I love this shower gel!
Collection Cream Puff Moisturising Lip Cream in Cotton Candy 1
I know this is already a staple in most Beauty Bloggers make-up bags and already have a lot of love for them around the bloggersphere already - but this is my little add to that! I've loved the Collection Lip Creams for a while now and have multiples of each shade but this one has been creeping into my bag more and more over the last few weeks as I have been toning down my make-up. It gives such a nice soft pink to my lips without being overly done and makes my lips still a very natural shade. It's super easy to apply and feels really soft on as well - I also think they have an impressive wear time on them.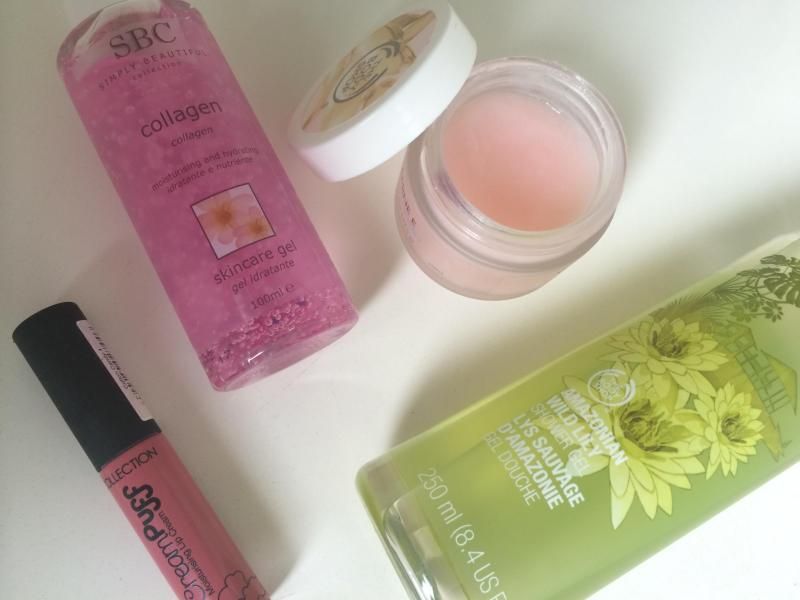 Simply Beautiful Collection Collagen Skincare Gel
I was lucky enough to receive this in the goody bag given out to everyone who attended the
Northern Blogger Meet Up
a few weeks ago. I was already loving the baby pink gel before I had even tried it! When using the product it is a little more watery than I would expect a gel to me and it is a lot less pink when out of the bottle - but that's not really an issue. It feels very cooling on and makes your skin instantly feel smooth and even better in the morning after it's had several hours to soak in! I can already see the difference in my skin from using this.
The Body Shop Vitamin E Aqua Boost Sorbet
There was a lot of hype around the Body Sorbets that The Body Shop released, however I felt that the Aqua Boost Sorbet released around the same time as kind of neglected and I popped this in my bag as soon as I saw it instead of the body sorbets. It feels so cooling to put on and makes your skin incredibly soft - plus it smells absolutely amazing! Kind of like a bag of sweets you get at the beach. I've been using this for almost 2 months now and I'm not even a quarter of the way through the pot yet as a little goes a long way - this is definitely going to be a repurchase when I eventually run out!
What have you been loving this month?