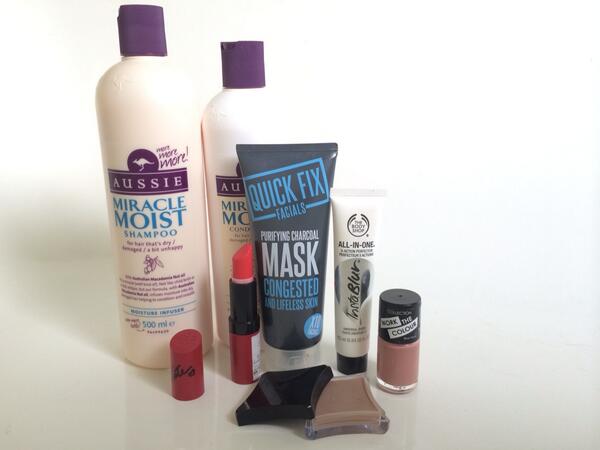 I have to be honest, it was hard picking out products this month for favourites - as I have been loving the same products as last month, to be quiet honest (so, yes there is a duplicate in this favourites post from a previous one - so forgive me!)
I'll start with the duplicate, and get that over with.
Shade 110 by Kate Moss for Rimmel
I love this lipstick so,
so
much. I have worn it constantly over the last few months. I love it on days I can't be bothered - I just pop this gorgeous bright coral lipstick on and my make-up instantly looks better and looks like I have made more of an effort than I have. Also, since we have been having a bit better weather sunshine-wise lately, this lipstick has definitely made me feel a lot more summery when I wear it, which is never a bad thing really? This lipstick is also one of the only matte lipsticks that I find moisturising as I can have dry lips at times due to the air con at work, so normally matte lipsticks just feel dry to me and settle into lines - however this lipstick is gorgeous! It glides on without tugging, and feels lovely to wear and I don't feel the need to add balm, like I do with other matte lipsticks. You can read
my full review here
.
Quick Fix Facials: Purifying Charcoal Facemask
I'll tell you know, I'm not going to put too much here as I will be writing a review on it. But the fact it's already in my favourites post should tell you something, right? This was a spur of the moment purchase after it was discovered lurking on the bottom shelf in Boots a few weeks ago. I was going to write about it sooner, but I've been wanting to give it a few weeks of testing first so I can form a good, solid opinion!
Collection Nailpolish in Bare Nude
As I have said previously, I have been LOVING nude nail polishes recently, as I feel they make me look more professional at work and make me feel more grown up (despite the fact i'm wearing bright red nails as I type this!) I love Collection as they are lovely and cheap (this polish was £2.99 i belive, if not, it was definitely less than £4!) but the quality isn't compromised at all, and that's why they are one of my favourite drugstore brands - and that includes their nail polish. The formula is a little thin but it's nothing two coats won't sort out! I kinda wish they called it "Bear Nude" though, it sounds a little cuter!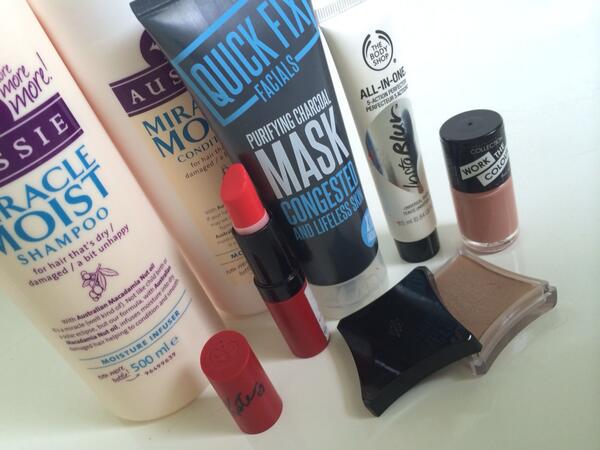 Aussie Miracle Moist Shampoo & Conditioner
I'm a long time fan of Aussie shampoos and conditioners, and I used to use them religiously. But I haven't touched them in over 18 months as the price was just too high, however my hair has need a lot of TLC recently as it's become dry and lifeless (and in need of a good dye!) so I picked this up the other day as it was on 3 for 2 in Boots so it was a little easier on the purse and my hair already is feeling more alive. I also ADORE the smell of Aussie products - I can smell them on my hair all day, and all day the following day too, which makes me a very happy bunny. Aussie products also help my hair feel clean too - I know all shampoos/conditioners clean your hair - but I find not all of them you can feel working and make your hair feel squeaky clean after.
The Body Shop Instablur
I have been lusting after this product ever since the guy, who I've come to know and love, in my local Body Shop told me about it! (Seriously, every time I come in they all recognize me and ask me how i'm getting on with products that i've bought, and so often tell me about up and coming products before they are annouced - such as the raspberry and peach products, and in turn Instablur!) Again, I won't write too much about this fabulous product as a review is on it's way but again, as it's already in my favourites - you can tell I love it! I went in The Body Shop yesturday and the lovely lady who works there asked me about it and how I was getting on with it, and I couldn't stop gushing about it!
Illamasqua's Cream Pigment in Hollow
This is another product that I have been lusting after for a long,
long
time. Being a pale skinned lady, I find it hard to find good products to contour with as they are mainly either too dark or too orange toned. I believe there is a big market being missed out on here and if a brand had a range catering towards pale skinned ladies, they would soon get a lot of fans! This product however, is perfect for contouring - it is more grey toned than orange toned which is more suited to my skin and reflects a shadow that my skin would product if I was lucky enough to have amazing cheekbones. The cream formula means it's super easy to blend out and it also it's very build able until you have your desired intensity. You can read
my full review here
.
What have you been loving this month?