As I mentioned in
this post
I went shopping with the gorgeous Georgina from
SheMightBeLoved.Com
last month and picked up a new foundation in my question to see if I can top my beloved foundation from The Body Shop.
I have heard a lot of good things about this foundation and when I've asked on
Twitter
and
Instagram
about people's thought's on this foundation, I had nothing but good feedback and quite a few of bloggers say that this was their Holy Grail foundation and it had been compared to MAC. So, I gave it a try!
I went for the lightest shade, considering my pale skin I am normally the lightest shade of everything and even then sometimes it's still too dark or orange toned (I'm looking at you Maybelline & your Fit Me foundation!) The lightest shade was named 'Ivory' and is more yellow toned than my beloved Body Shop foundation. I always struggle with tones - not because I don't understand them, but my skin is multiple tones! My body is yellow toned whereas my arms, chest are pink toned! It's quite unusual - and even more evident in photos, so I never know which tone to go for. I'm leaning more towards pink toned foundations though.
This foundation also claims a 24 hour wear time - but i'll get on to that shortly!
The foundation comes in a glass bottle with a plastic screw lid. I can safely say, I'm not a fan of the packaging of this foundation. The glass bottle means I find it hard to get out - my preferred method of applying application is to put the foundation on the back of my hand and use my Real Techniques brush from there. But due to the glass being quite thick and the neck of the bottle quite long in comparison, it mades getting the product out quite tricky. I have to hit the bottle on the back of my hand 4 - 5 times before it starts coming out and even then i have to keep hitting the back of my hand with the bottle until I have enough out.
The foundation itself is quite thick - for me, anyway, as i've been used to my Body Shop foundation. It does feel smooth though and doesn't feel as thick when applied. I've found it has quite a creamy consistency when it first comes out of the bottle, but with the warmth of your skin it does feel thinner and lighter - especially when applying it to your face.
I would say this had medium coverage, and it blends into the skin well. This foundation is also buildable and it doesn't get that cakey look if you put some more on top, if you need a bit more coverage in some areas more than others. For me, I apply a little extra on my cheeks as that's where I get redness, and it applies smoothly on top and doesn't make my make-up feel 'heavy' at all.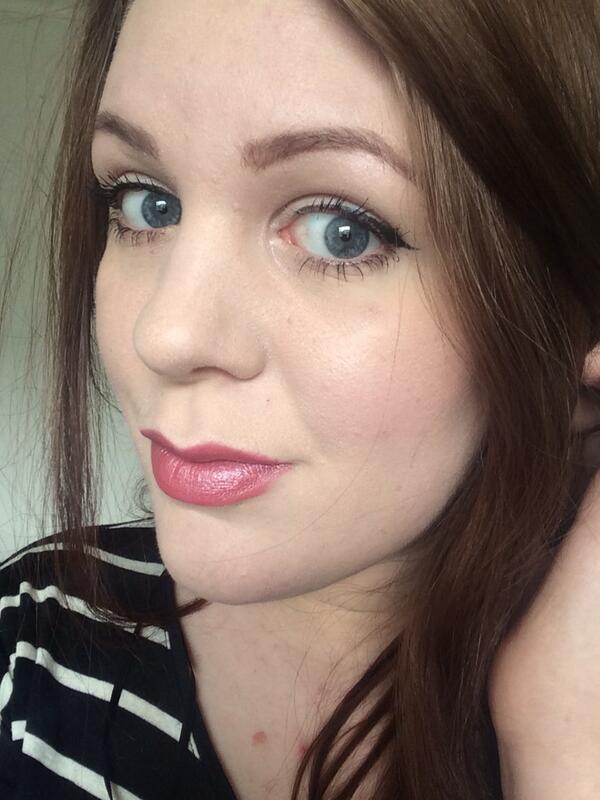 I'm still not 100% sure I love this foundation - some days I like it, some days I don't. I sometimes feel like it's actually too light for my skin tone (and that's something I never thought i'd say when it comes to foundation!) and I had a comment from a work colleague saying I looked paler than normal on the first day I wore this to work. I can't decide if that's due to this being a lighter foundation, or my previous foundation being a shade darker than I needed, but i'm leaning towards the tone of the foundation - my favourite foundation that I will always speak highly of, the Body Shop Moisture Foundation is a pink toned foundation and this Revlon foundation is very much yellow toned.
As for the wear time, I think Revlon are being very, very optimistic when saying 24 hours (firstly, who wears foundation for that long?!) - I find it starts to feel heavy/cakey after around 7 - 8 hours and at that point I feel I need to take my makeup off. It comes off easily with a simple application of my Ultrabland Cleanser from LUSH. I also think this foundation would suit ladies with more oily skin as it can feel a little drying at times (I have normal skin with an Oily T-Zone, and it starts to feel a little drying on my temple and cheeks after a few hours). For Me, I have also found this foundation has a normal to matte finish - so I haven't been using my powder with this foundation as I feel it would make my skin feel even more dry. This is one of the aspects of this foundation i'm not a fan of as I like quite dewey looking skin.
So far, I think this foundation is hit and miss, it covers blemishes well and has a good coverage, plus it being buildable is a definite bonus, but the packaging and the tone are what let this product down for me.
What do you think of this foundation? What's your Holy Grail foundation?